Lemons are sweet when it comes to healing powers and preventative health qualities. So when life gives you lemons, try some lemon "aid"!
Then you can squeeze out solutions to life's little problems like:
If you're planning on having a whale of a time ringing in the New Year and don't want to wake up with a hangover, squeeze half of a lemon into a glass of water and drink it down before you hit the hay (or the floor!). Drink a second glass of water with the other half of the lemon in the morning.
Eat all the lemons and drink all the lemon juice you can at the first sign of a sniffle or sore throat. The vitamin C in the fruit acts like interferon, a natural body chemical that stops virus growth in cold sufferers.
Here's a solution that'll help ease hemorrhoid discomfort. Just add ¼ teaspoon of ground nutmeg to a glass of warm lemon water and drink it twice a day to help shrink swelling.
If you've lost your voice, get it back by sipping a cup of hot water with a teaspoon or two of lemon juice. You'll soon be singing the praises of this time-honored singer's remedy to everyone in sight.
Women, if you're dealing with a heavy flow during your period, lemons can be your best friend. Squeeze the juice from three lemons into a tall glass of ice water and drink it slowly to help constrict blood vessels and slow the flow.
For blemishes, try rubbing lemons directly onto your skin and don't rinse. In an hour, splash your face with cool water and dry your skin with a soft towel.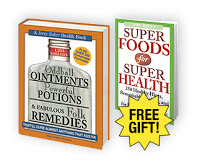 For even more healthy hints that'll have you feelin' fine in no time, check out my Oddball Ointments book—FREE for 21 days! It's filled with powerful potions and fabulous folk remedies that'll prevent, heal, and even cure over 125 ailments and illnesses.
Happy 2013!